Part 1. The appointment to make an appointment.
I wanted to document my experience of the signing on process and see how different it was from when I last did it some 25 years ago.
I arrived at 1.45 to take a ticket but the automatic ticket machine was 'closed' for lunch. The machine was closed, not the person giving the tickets. Others were waiting too in various areas of the centre. When the machine 'opened' at 1.55pm there was a bit of a scramble because everyone tried to be the first to get a ticket.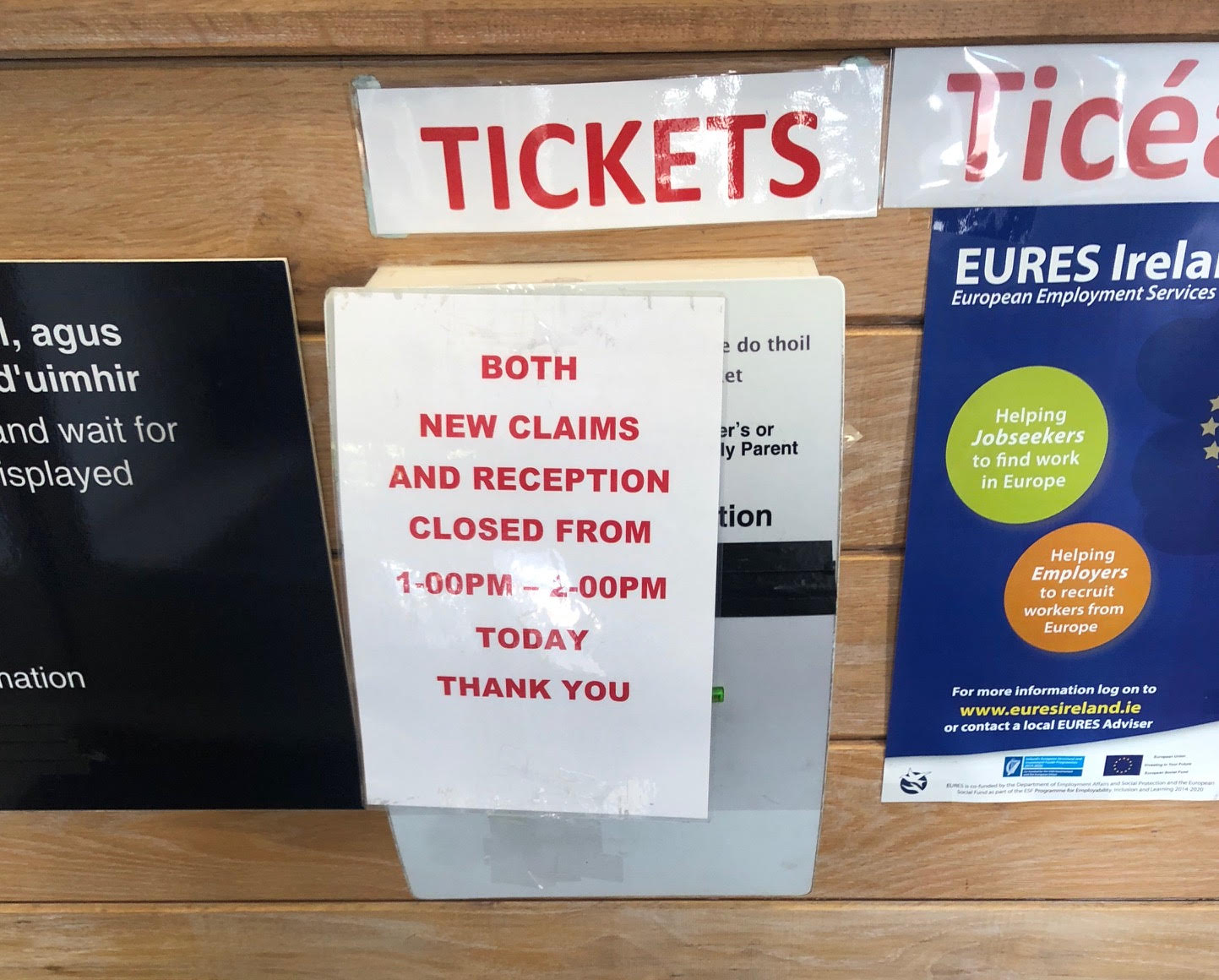 The ticket stated 'NEW CLAIMS'. I would think of claims as relating to insurance when something or someone was damaged or injured. Perhaps that wording could change.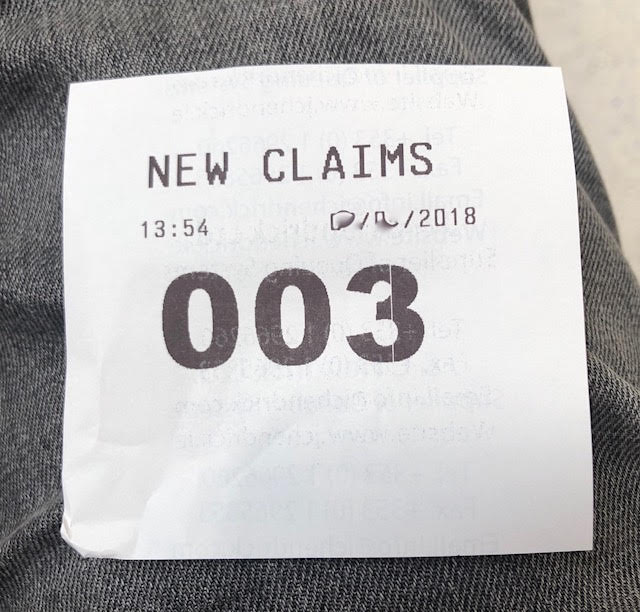 The waiting area had a mix of contrasting posters, one offering supports, the other had a gentle sense of warning and another reminding me to be respectful to the staff. Should I expect trouble?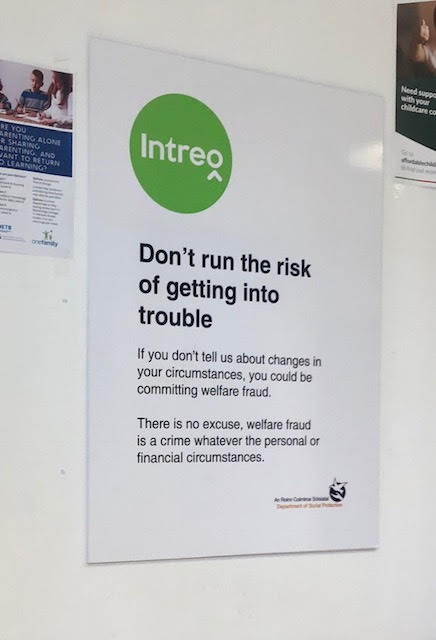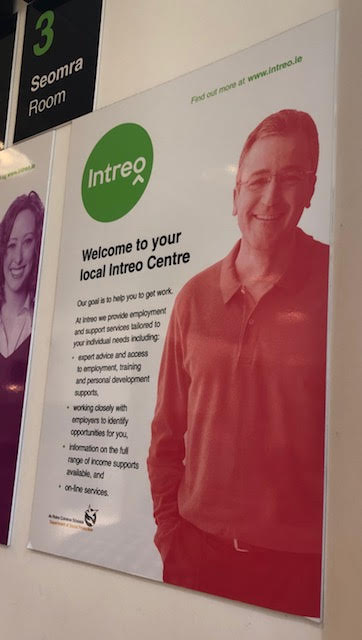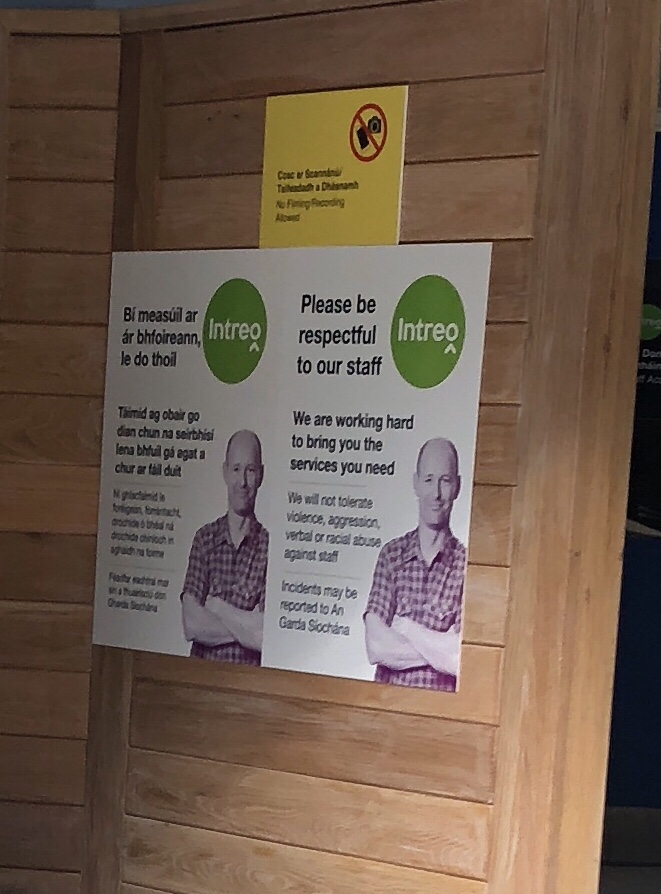 Beside the official information posters and leaflets other homemade signs competed for attention in a supermarket notice board style collection. Nothing says 'couldn't care less' quite like a poster struck up with celotape. And then I started to look around properly and I started to count. I counted over 150 different notices, posters, warnings, leaflets and forms all hanging or pinned or stuck on different surfaces.  Is this quantity supposed to represent options? The overall impression was that communicating to the customer was not considered even though every department had probably delivered on their mandate to 'tell the public' A vomit of graphic design (not sure if that's the correct collective noun) or lack of it. It was like a free-form library with no indexing or structure.
How a 'job seeker' highly educated or otherwise would have attempted to negotiate I do not know. More likely they just keep their head down with Instagram, or Candy Crush on their phone and get in and out as quickly as possible. It would be interesting to install facial recognition sensors to see if any are ever read the leaflets or posters.
Some homemade signage in ALL CAPS and a 'fun' font showed little understanding of accessibility or communications.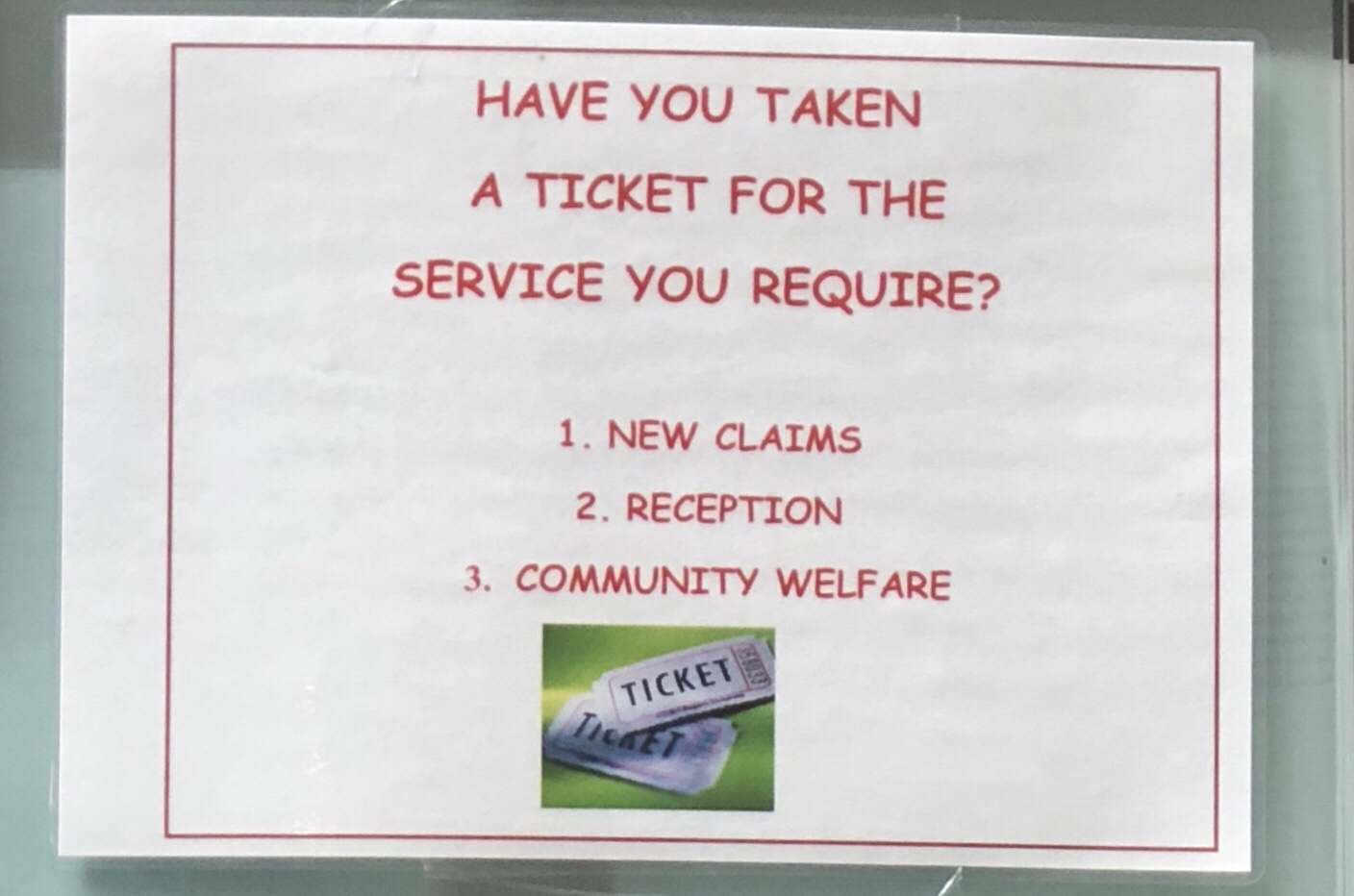 The waiting area filled up very quickly with approx 30 customers. 3 counter staff and 1 security man was visible. New claims had 6 desks with only one open for business.
The closed counters had, in large type the words 'Closed' 'Dúnta" printed on the blinds.
Might as well write 'BROKE' or "SICK'. Highlighting what's working rather that what is not is much better for psychology.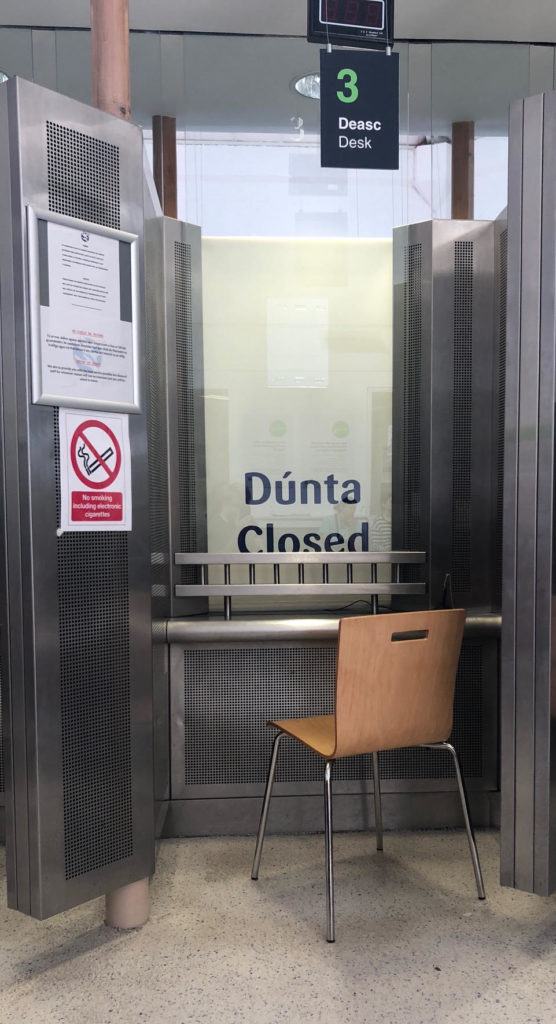 I only waited twenty minutes as I had grabbed a ticket quickly when the polite rush started to the machine. My helper didn't tell me his name but did ask why I was at the new claims counter. I don't think I surprised him by saying I was here (at the new claims counter) because I no longer have a job. After a minute or so I realized that this appointments purpose was to set another appointment. The first available slot was in approximately 2 weeks. My helper asked a few basic questions then with strokes of a highlighter showed me what I needed to bring with me to my appointment. He also have me a number of forms to complete. But didn't ask if I needed any help completing them. My literacy or comprehension skills or even mental health (having become unemployed) were not considered.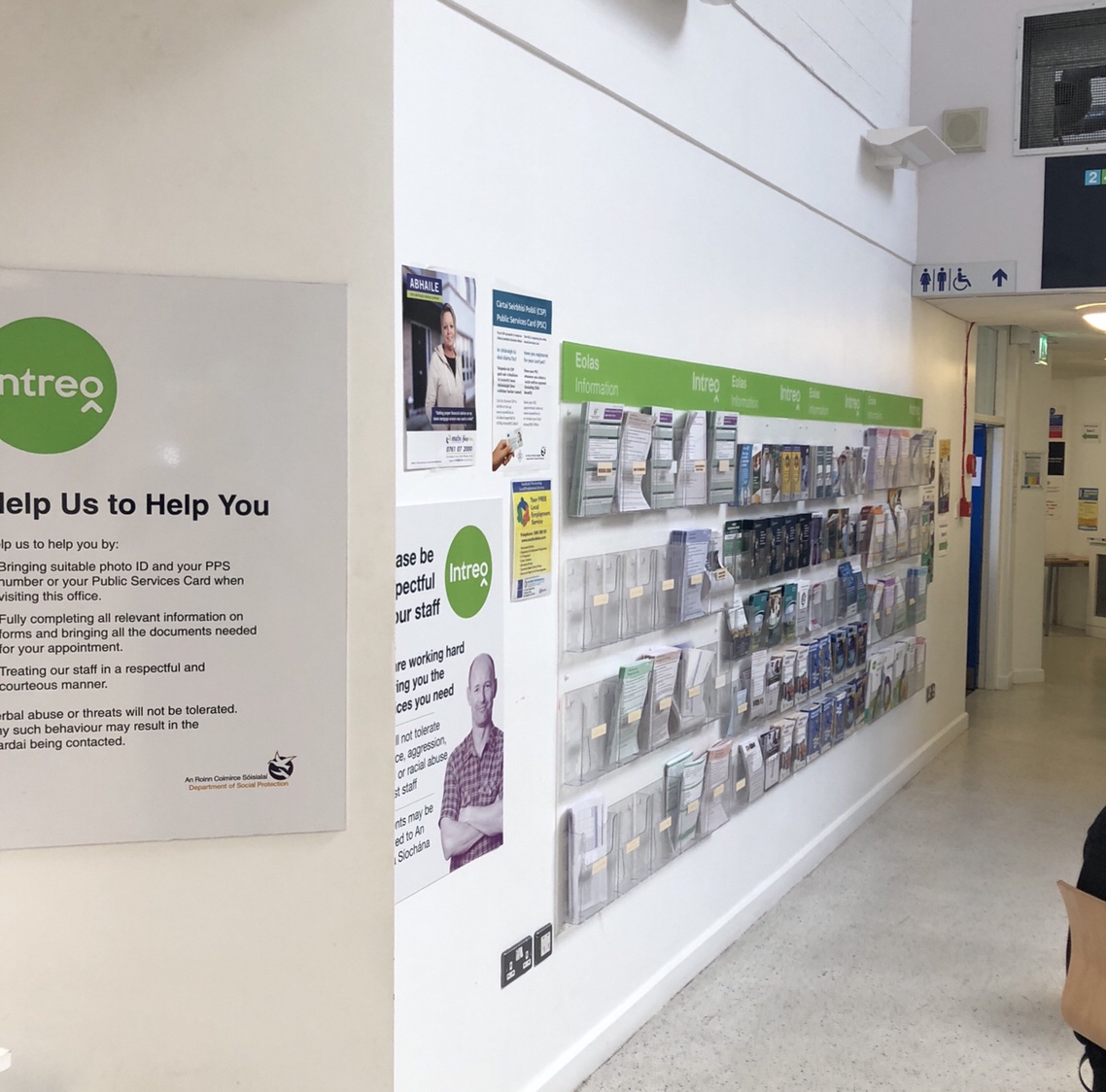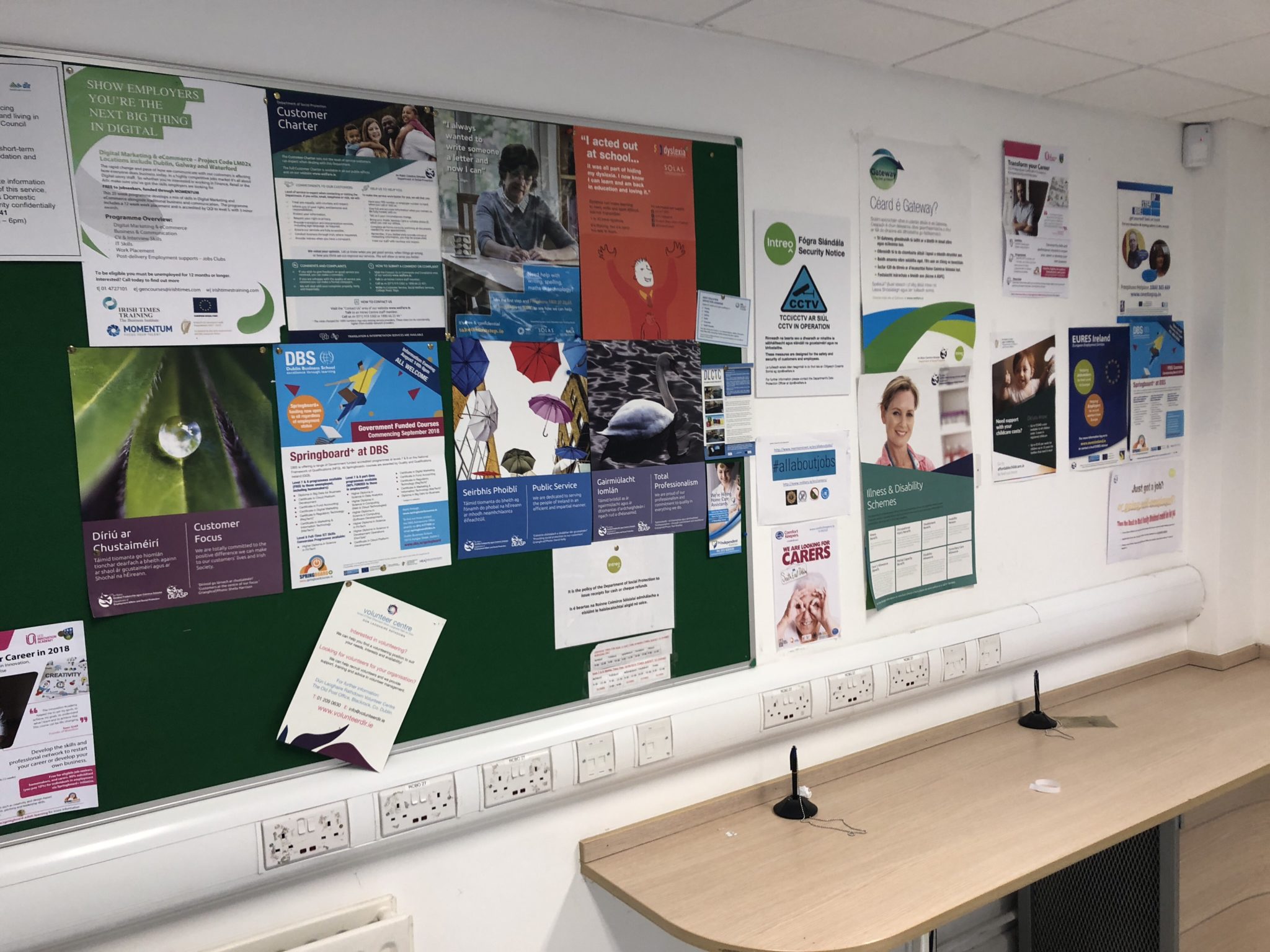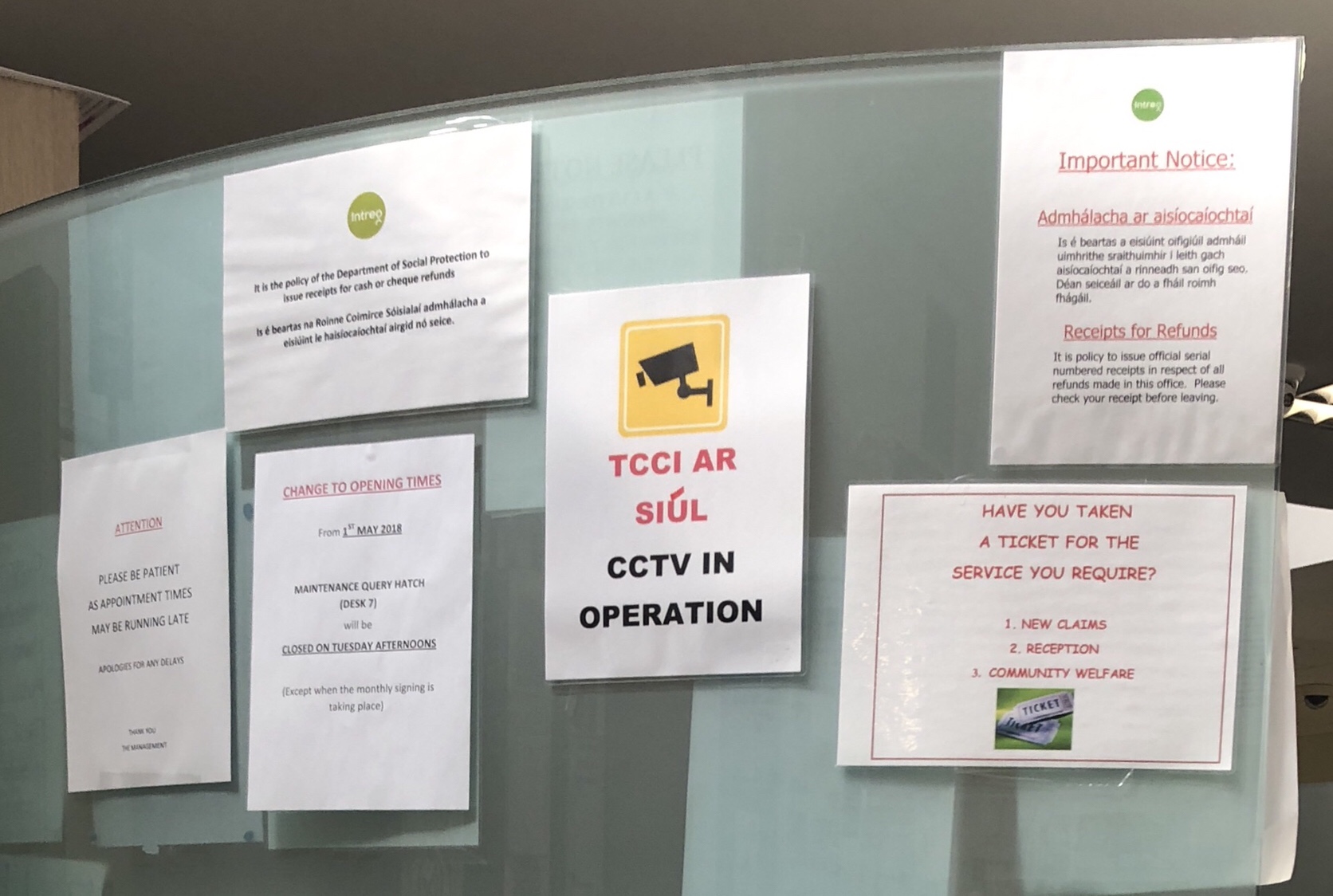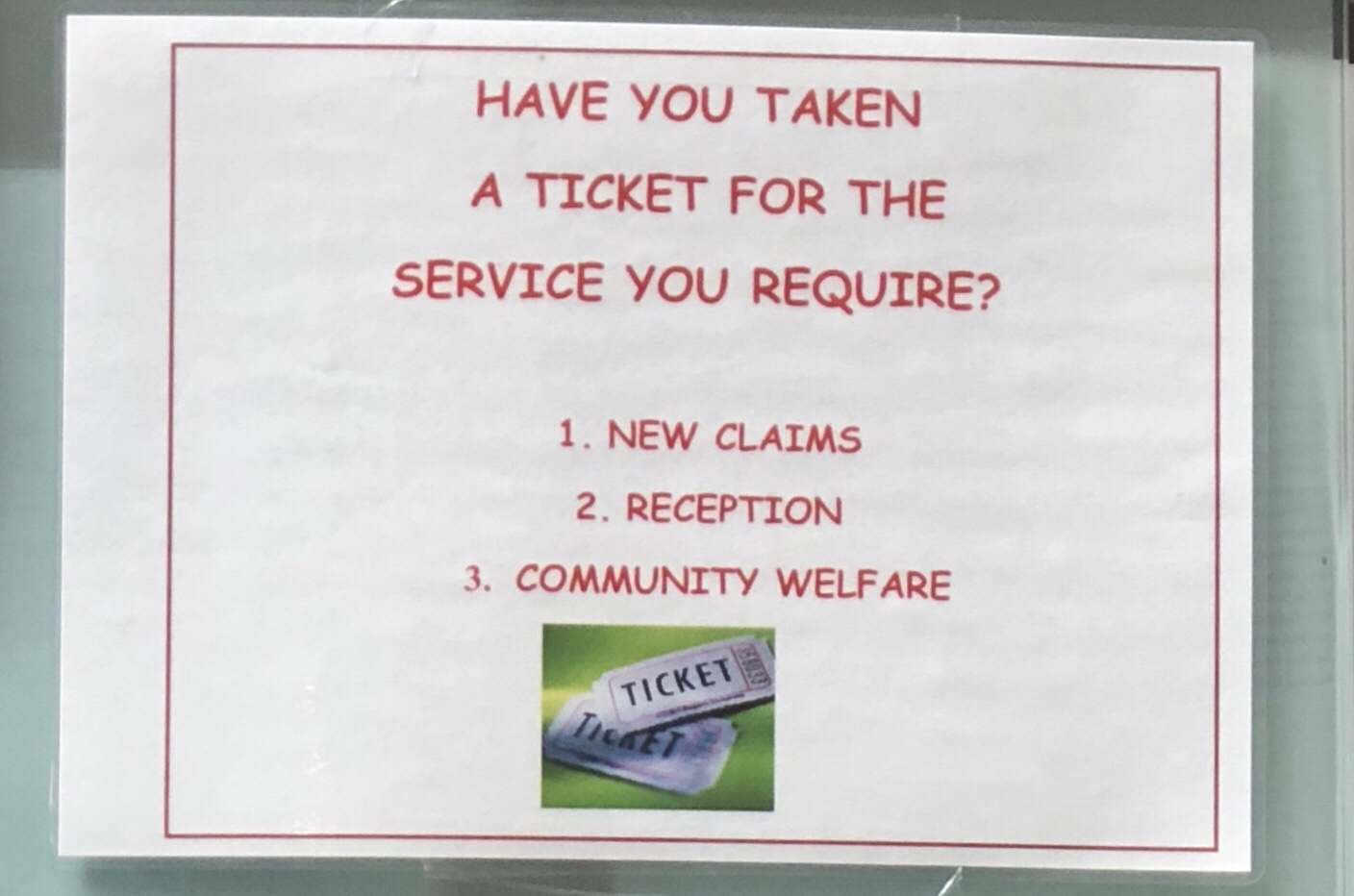 2. Form filing
I was given three form to complete. On one of the forms I received mortgage interest supplement was listed as part of the supplementary interest supports. Upon googling this it seems this support was discontinued on 31 dec 2017. Also listed for support was FÁS which was previously disbanded. I guess there was a printed stock of old forms that needed to be used. So was this conservation or oversight?
I brought home five pieces of paper as follows
• Record of Mutual Consent – form
• Jobseeker's Claim Part B (JCP B)  – form
• Application form for Jobseeker's Allowance or benefit UP1 – form
• Conditions for getting a Jobseeker's Payment – information
• Details of the appointment made – information
All forms were in different colours, fonts, font styles and sizes, which helped add to the confusion and potential stress if you were not someone who worked in an office and used to paperwork.
I additionally had to gather documentation to prove home address, who I was, social service card, ID,  redundancy amount, date employment ended and bank balances. I probably could have brought all of this to my first appointment if I had known.
I found this question on one of the forms. It should be the first question the helper asks when you get the form. Also would someone with severe difficulties have made it to question 11?

There were Hyper links to a webpage in the footer of a printed document which I found really interesting as I tried to tap on them. Perhaps a nod to future plans.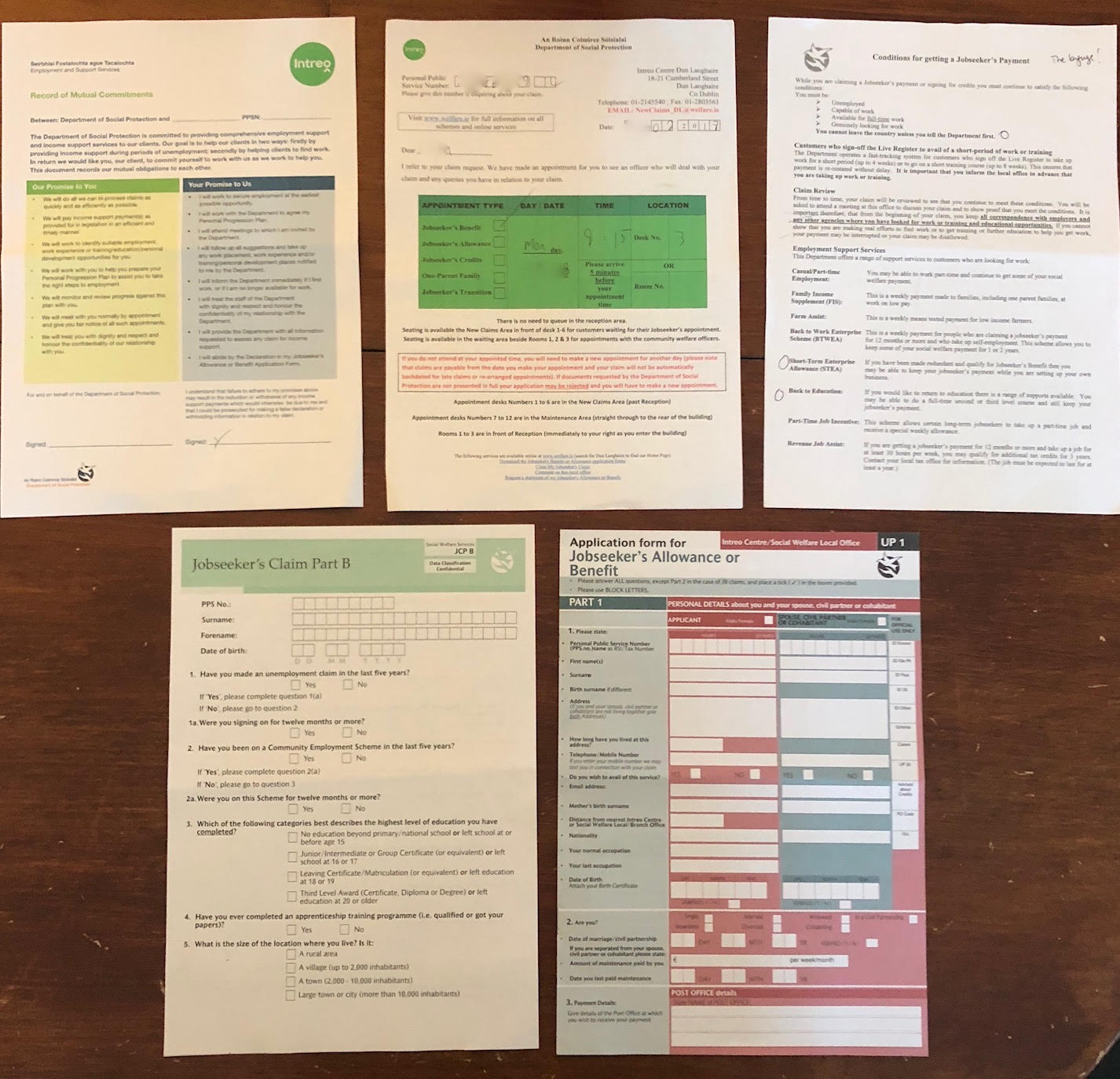 Part 3. The appointment to hand-deliver forms.
I arrived back at my appointed time two weeks later and only waited 10 minutes until my name was called out.
My helper didnt introduce herself but waited for me to hand over my documentation.
There was not enough room for me to put down the various A4 forms and letters I had to pass through the narrow slot. The surface was polished metallic and had rounded edges and as a result, pages kept sliding off onto the ground.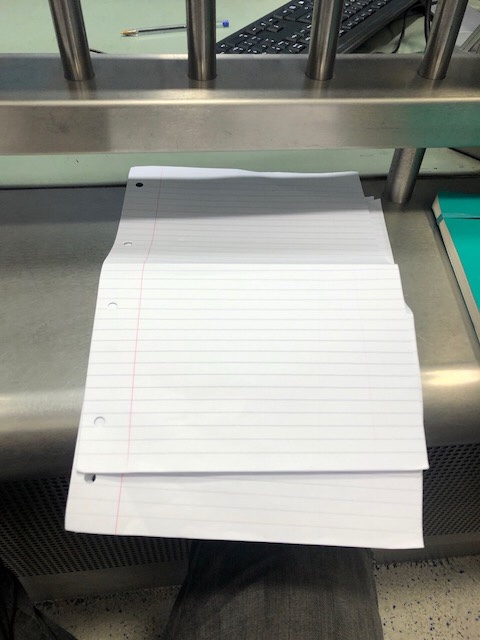 There was no explanation as to how long the appointment would take or what the expected outcome was. Although the outcome was explained at the end. example of a good intro (not Intreo) conversation, Hi John, I am Mary.  We will check all your forms, supporting documentation, it will only take 10-15 minutes. Then if everything is ok I should be able to authorise your payment for collection next week.
Key Observations:
Customer non centric. This whole experience has not been designed with the customer at the centre. Whether it was even designed at all is doubtful. Digital Fail. There was no opportunity to fill any of the forms out digitally or to engage in this process in any way digitally.  Was the process much different from 25 years ago.? Not really, it still feels somewhat like visiting someone in prison. Was digital transformation evident. Well the paper forms were scanned onto a computer, otherwise it was all still paper and biros. That's progress for you.